The San Diego Ride to Blythe...
(Updated: Thursday, December 23, 2004)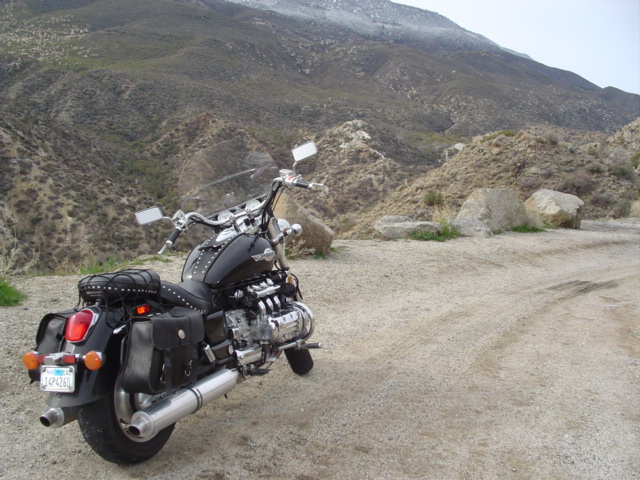 Damnatu's Valkyrie in the San Jacinto Mountains
I woke up early this morning at 5:00 AM excited about riding my bike to Blythe. I got ready for the ride and I was out the door by 5:30 AM. I live in North Park, so I decided to take the 163 North to the 15 North all the way up to Temecula. I filled up at the gas station off the exit at Hwy 76. Rode up a few more miles to Hwy 79 and took it towards Warner Springs. Close to the Aguanga junction, I picked up the 371 for a very cold ride up to Anza. In Anza, I stopped for about 45 minutes at a Dairy Queen to defrost my frozen limbs. I had breakfast there and then decided to refuel at the gas station across the way. Some guy walked up and inquired about my bike. He said he used to ride a Magna once and was amazed at the performance characteristics and the sheer size of the Valkyrie. (Which of course he never heard have before!) From Anza, I jumped on the 74 heading northeast towards Cathedral City in Palm Desert. This was a fantastic ride and if you have never done it and you love twisties, this is the place to go! The scenery was superb while crossing the San Jacinto Mountains and the Santa Rosas. Amazing twisties (watch out for some gravel) kept me intensely focused, challenging my Valk with every turn. I had to watch my lean angle and entry speed at every turn, while some yahoo in a jeep kept tailgating me down the mountain. I had to stop on a turnoff to let him get ahead of me and I pressed on, now tailgating him...Cacti and wildflowers peppered the landscape in full bloom. My heart was beating intensely with joy and excitement, as this was probably to be the best part of the ride!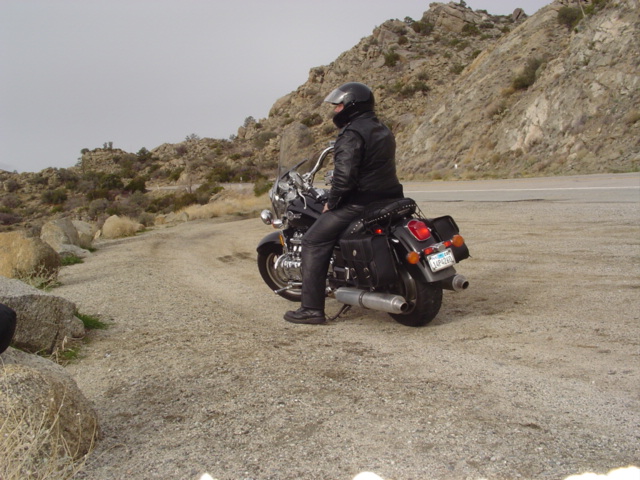 Damnatu gazing over the frozen peaks of San Jacinto Mountains
It is very fascinating to me, just how beautiful Southern California can be. Last year I started hiking the Pacific Crest Trail and I crossed about 110 miles of mountains from Mexico to Anza Borrego Scissors Crossing. The next leg of the Pacific Crest will cross through the San Jacinto/Santa Rosas and the San Gorgonio mountains. These look like very tough mountains to cross on foot and I got a very brief glimpse of what lay ahead for me in May when I will complete this next leg of the Pacific Crest Trail...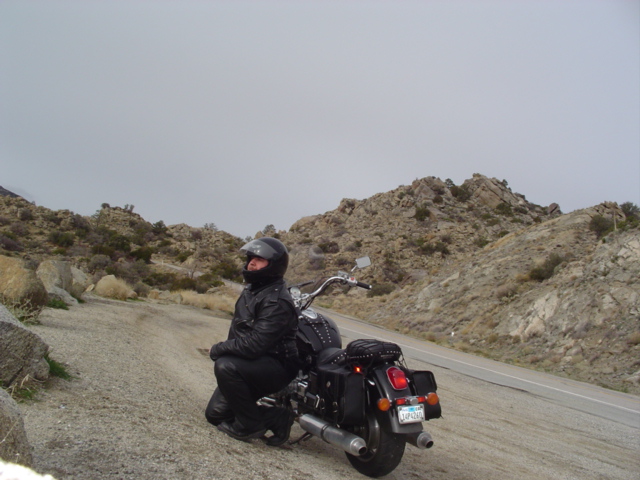 Knealing in front of God's mighty creation!
Ridding for me is a spiritual experience! I get a very uplifting feeling every time I ride through remote areas and I get extremely touched when I see landscapes and human built landmarks that I have never seen before. I like the contrast between desert landscapes and human intervention. I think it is amazing that people can become acclimated to live in the heart of the desert much like our American Indian Natives did before us. The thing I liked the most about the ride to Blythe was seeing the tiny wooden cottages that dot the desert landscape. It's miraculous that people live such tough, isolated lives. It sort of ads a remote, rugged beauty to the scenery...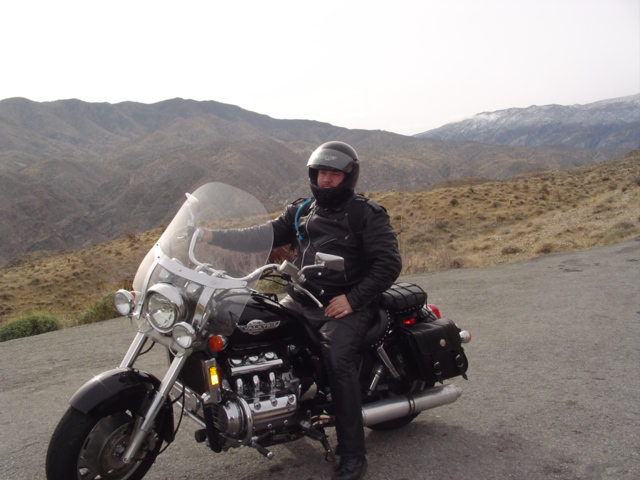 Damnatu at the foothill of Hwy 74
Some nice folks from Temecula took this picture of me at a turnoff. The husband and wife pair just came from the Idyllwild Mountains. Some snow was still packed on their SUV's bumper. The husband seemed interested in my itinerary and was asking a lot of questions about the ride. The wife seemed quite scared about the whole concept of riding bikes and said that she was terrified of them. I respectfully saluted them and wished them well on their journey as I continued on mine. I jumped on the 111 North to Cathedral City. This part of the trip I wished I skipped, but I was thinking I was going to cross to the 62 and ride through Joshua Tree National Park, which never happened because I lost that exit off the 10 East. The 111 North was boring, because it passes through the community of Palm Desert. Lots of rich guys with Lexus's and Mercedes cars were everywhere. The homes were very upscale and the community seems painted in gold. It looks like Beverly Hills in the heart of the desert and that's definitely not my thing. I found myself ridding quite fast through this town trying to escape the lingering traffic. Quite a few guys tried to race me in their sporty cars, but failed miserably. I have a six-into-two, Two Brothers exhaust on my Valk that increases performance and most unsuspecting victims seemed to fall behind by the time I reached second gear! I will never forget this guy in a Mini, which thought he could beat me to the next light. In first gear he was smiling at me as he gripped his steering wheel ready for the race. In second gear, he looked confused as I passed him up with a shrill. Third, Fourth and Fifth I could not see him anymore and I arrived at the next stop light by myself. When he got to the stop light a few minutes later, he slowly creped up besides my Valk, looking out the window in the other direction! I bet he will never forget this day!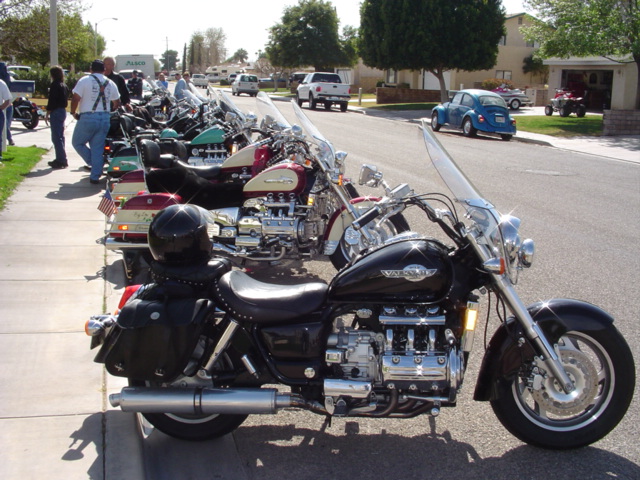 Valkyries in Blythe!
Finally, after a long, fast ride on Hwy 10 and pushing my bike every now and then past 100 mph. I finally got to the city of Blythe, CA. A sign indicates that there is a state prison near by. Another sign next to it indicates that one should not pick up hitchhikers...Go figure! Got off on 7th street, turned right on E. Hobson Way and left on Birch. I made a small turn to the left and Earle St. came into view. A Valkyrie rider with passenger turned the corner and pointed with his hand the direction of the house. I saluted and turned the corner into the street. Rode up for about one block and saw the many Valkyries parked in front of the house like you see in this picture. About a dozen folks were gathered outside chatting and socializing at the event hosted by Dennis and Tammy. A few words about Dennis, Tammy and their kids...They are some of the nicest people on earth. Not only do they open their hearts and their home to you, but also they are extremely polite, friendly and warm people. The food was just excellent and their daughters gave me 100 hugs. I became really attached to them and their kids who would go out of their way to make you feel like you were part of their family and for those moments I was!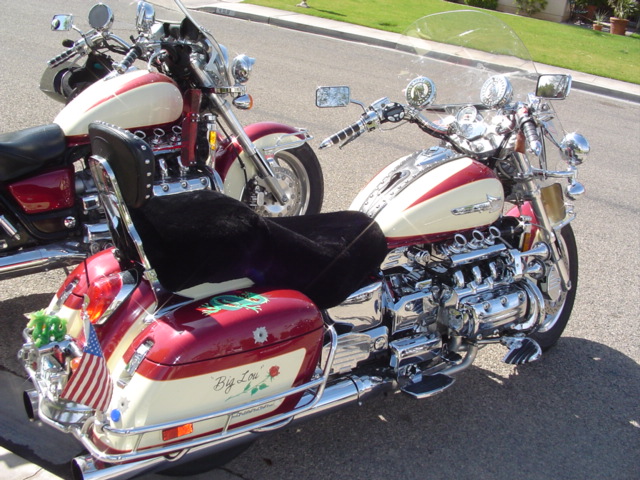 Big Lou's Bike
Here is Big Lou's bike. You can always tell Big Lou from the group, because he is wearing a leather vest that has tons of Valkyrie patches and insignia. He also wears his Vietnam Veteran patches and rank on his vest. Overall, he is a really nice guy and we became friends quickly on the ride back to Temecula. Big Lou is a good rider and practices safe bike ridding. One thing I will never forget about Lou was when he turned to me during the wet ride on the 10 and said "Mario you are going to follow me to Temecula...I don't ride fast!" Which meant that he was going to be careful ridding through all that rain. I really enjoyed my ride back to Temecula with Ed and Lou! They are both great guys and we got along just fine...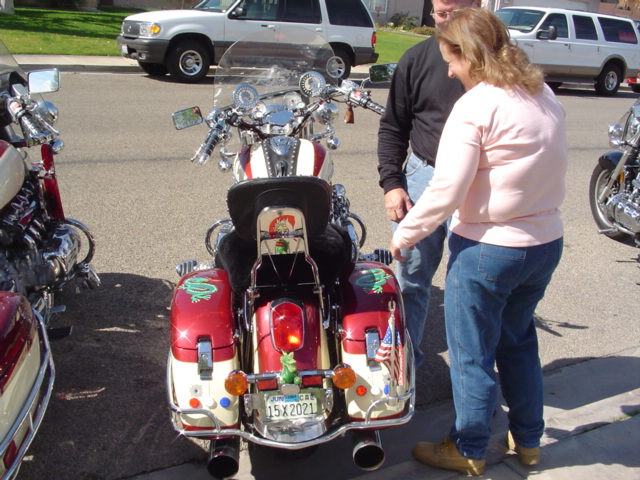 Big Lou's Artistic Valkyrie
One of the most amazing things about the Valk and its owners is that it reflects each person's Artistic ability and Individuality. Every time I saw a Valk in Blythe I fell in love with it. These people really take a lot of pride in their bikes and the bikes themselves look like gems! There are many more photos for you to enjoy down below!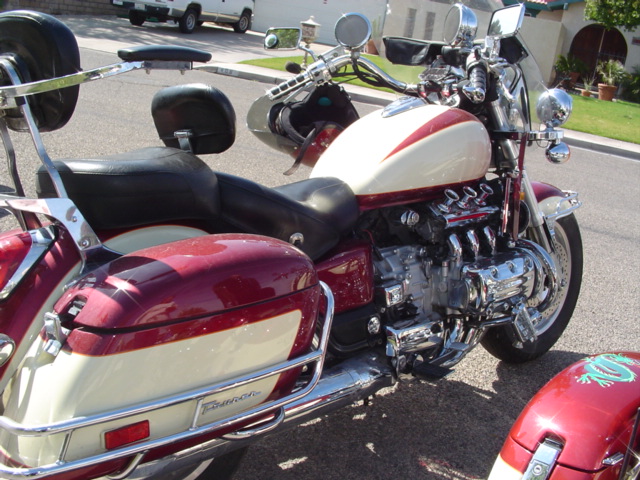 This Valkyrie belongs to Mike "Yokozuna"
This Valkyrie belongs to Mike "Yokozuna"

GarryD's Valkyrie
This Valkyrie belongs to "GarryD"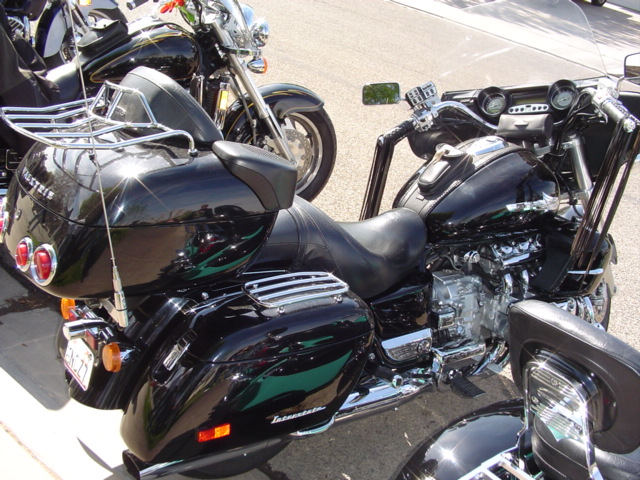 Another Valk Pic...
I have posted these Valk pictures from the Blythe event for your enjoyment. Although I do not know the name of the owners of these bikes, please e-mail me at: mghecea@cox.net and I will post your name next to your bike if you wish!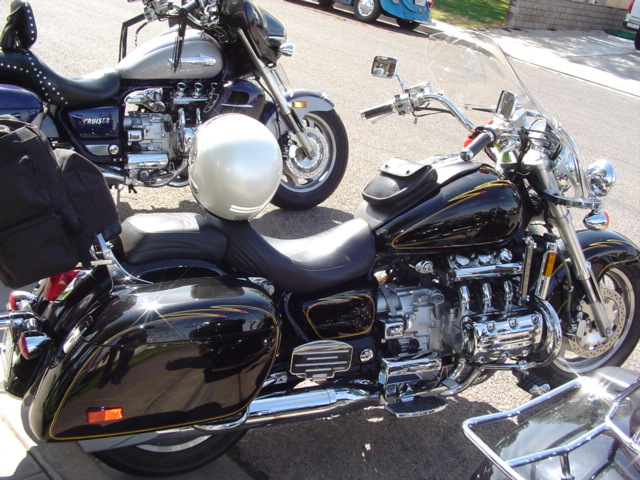 Sandy Fraser's Valkyrie
This Valkyrie belongs to Sandy Fraser from Mesa, Az.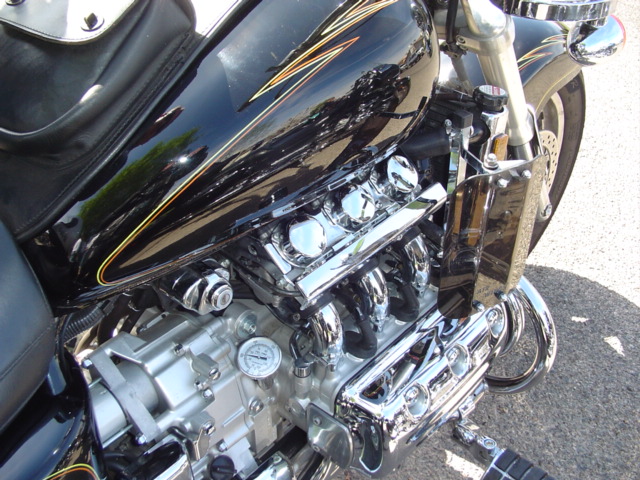 Cool oil dipstick design with Engine Temp Gauge!
Here is a close-up of Sandy Fraser's Valk with a cool oil dipstick design under the form of an Engine Temperature Gauge...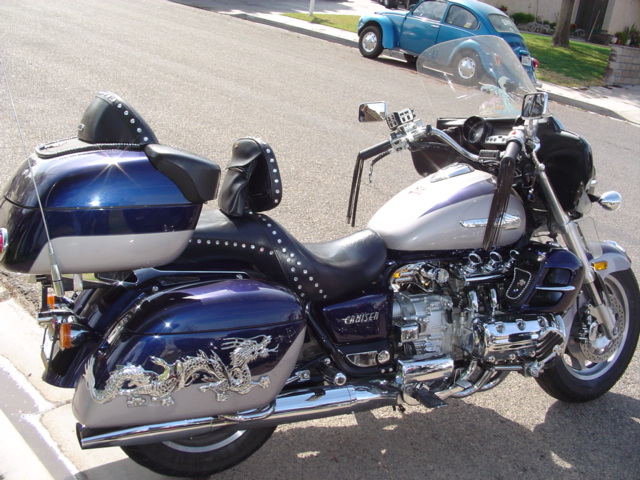 Dennis's Valkyrie
This Valkyire belongs to Dennis from Blythe. He and his wife are the best hosts on earth. Many thanks to all the people from his family who have gone out of their way to make us feel comfortable during our stay in Blythe. We hope to see you again soon!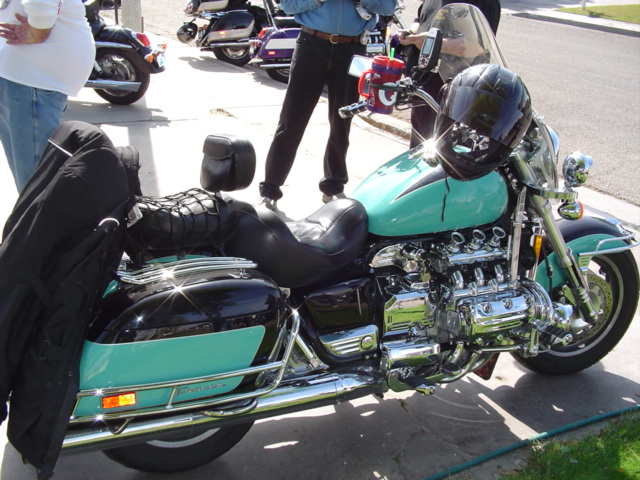 BigBF's Valkyrie
This Valkyrie belongs to BigBF.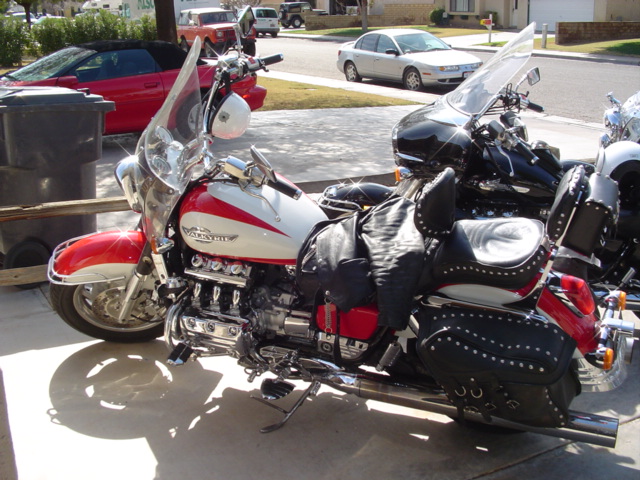 Another Valk Pic...
I have posted these Valk pictures from the Blythe event for your enjoyment. Although I do not know the name of the owners of these bikes, please e-mail me at: mghecea@cox.net and I will post your name next to your bike if you wish!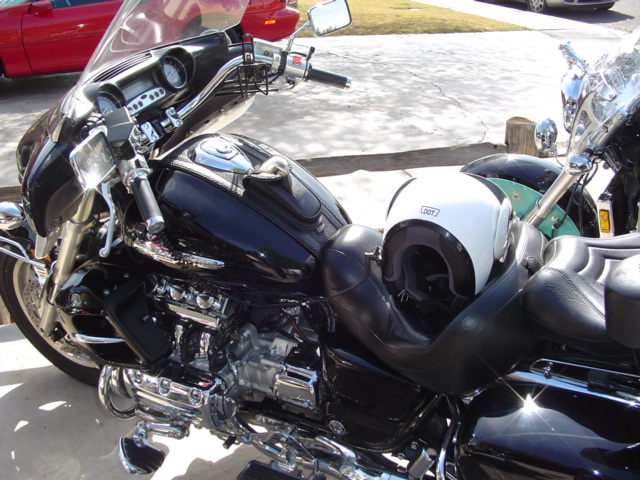 Richard's "bigmac2" Valkyrie
This Valkyrie belongs to Richard "bigmac2".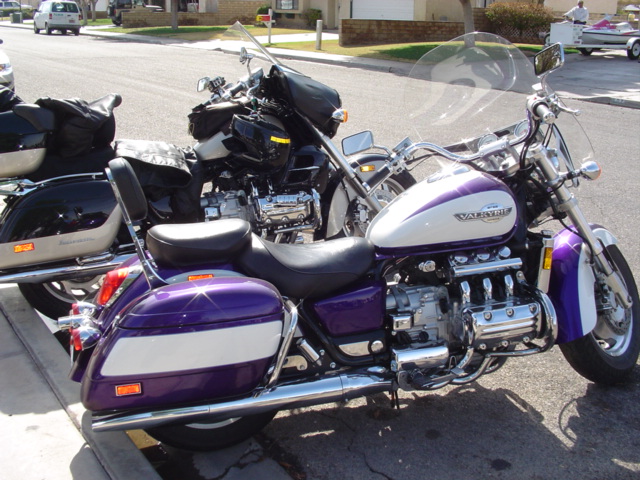 Tammy's Valkyrie
This Valkyrie belongs to Tammy from Blythe, our wonderfull, gracious hostess!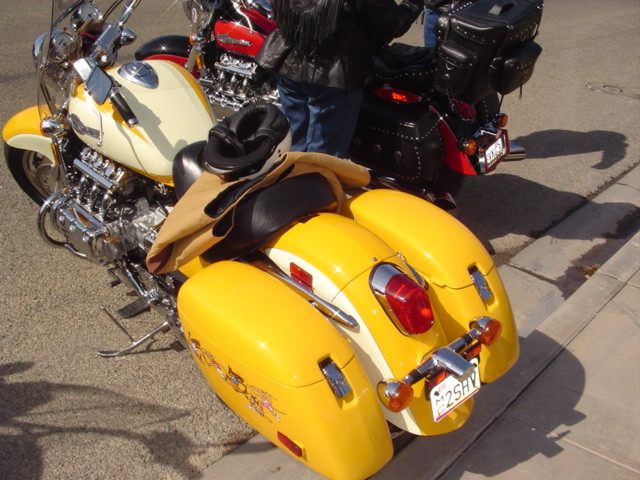 John's "Thing" Valkyrie
This strikingly beautifull Valkyrie belongs to John "Thing".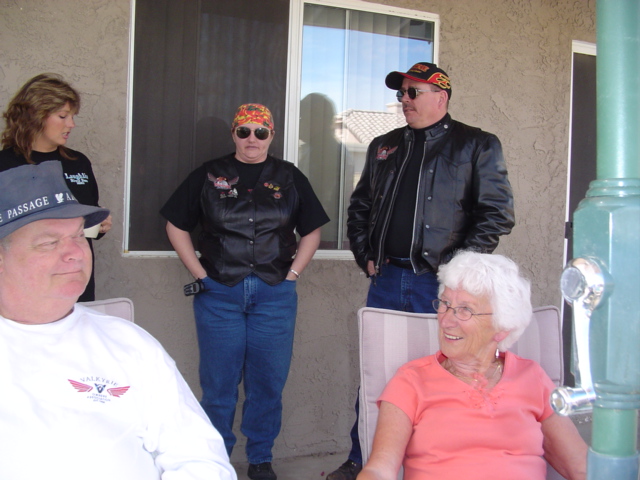 Pics of some of the VRCC folks gathered at "Big Bikes in Blythe" event
Although I'm not going to make references of any names, I would like to say that all the folks at the event were friendly and had lots of interesting stories to tell. Unlike other events I've been to in the past where egos flail in the wind, this event was extremely cheerful and the VRCC members seemed to all know each other. They were really curious about me and asked me lots of questions. They seemed to be very happy with the fact that I will take control of the San Diego VRCC Chapter. They had lots of good suggestions for me and basically I felt we were on the same page. San Diego just needs to be more proactive and get involved in some of the rides. The rides are great ways to meet these friendly folks and have some fun too!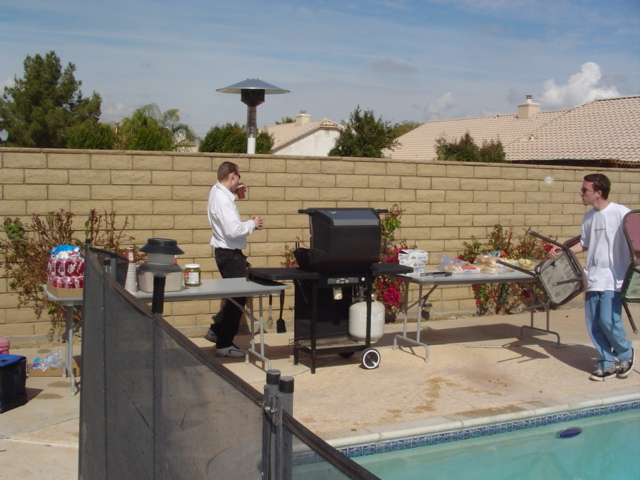 Barbeque cook off by the pool...
Dennis's son and another volunteer helped to set up all the fixings for the hungry riders that showed up for the event. They have been blessed with all the intense work required to keep everyone there happy for the entire length of our stay! We want to extend them warm thanks for all their effort and hospitality!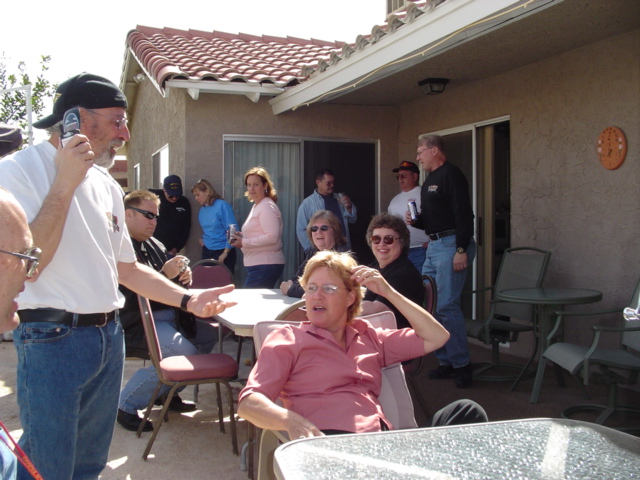 More pics of the festivity...
Basically, we were all blessed with good weather for the most part of our stay in Blythe. The hotel accommodations were awesome and a small group of us ended up staying up all night talking about the Valkyrie VS. the world and some other random topics. Overall, we had a good time drinking beer and chewing the fat till 2:00 AM. I was dead tired from the ride to Parker and staying up all night, so I didn't make it to Denny's at 8:00 AM the next day on Sunday. Hey, it didn't matter to me though; I still got to hang with the group on the awesome ride back!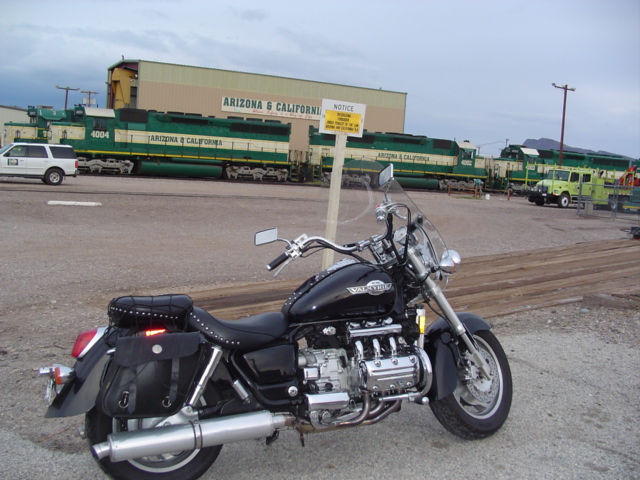 Damnatu's Valk in Parker, AZ.
Well, do you remember the little caption they posted on the site about Quartzite, AZ? Some of the guys from the group decided to head off and take a ride about 20 miles east of Blythe to a small mining town called Quartzite. I tried to catch up with them after checking into my hotel room at Comfort Inn. I couldn't find them, because they decided to park in the rear parking lot at the Gem Fair. I finally gave up searching for them, so I jumped on the 10 going east. By instinct, I decided to take the 60 towards Prescott, but decided not to pursue the ride any further than Vicksburg. Why? A cop started flashing his lights as soon as I passed up an F150 truck pulling into a trailer compound. Now what? I was thinking to myself, I know I wasn't speeding...maybe he just wants to take a better look at my bike? The cop was pretty nice and told me that I was passing a truck in a non-passing zone. I told him that I was not aware of the non-passing zone sign (although I was...) and he let me go with a warning! He then pursued a conversation with me about my bike. "Nice bike" he said..."Do you have good tires for the rain?" "Yeah Ociffer" - I replied. I asked him about the next town up and what he though was a practical driving distance. He advised me not to venture all the way up to Prescott, because I would never make it back to Blythe in time for dinner festivities. I believe Wickenburg was as far as he advised me to go. I didn't even make it that far, but instead, I decided to take the 72 towards the town of Parker. I met a bunch of Harley guys from Canada at one of the gas stations at the crossroads. They were nice, but the gas station lady was not. She started yelling at me telling me to move my bike so other people can fill their tanks. Absent minded me...I immediately complied and rode up to chat with the Harley guys from Alberta. They flew into Phoenix, rented some Road kings and decided to ride to Parker. "Where are you headed - Ehhyyy? What is your name - Ehhyyy? We are headed up to Parker - Ehhyyy?" - Got to love those Canadians! They are always friendly and ready to party! They took off on their roaring Harleys towards Parker and 15 minutes later after I finished my 'Reese's Pieces' I started riding north-west towards Parker. About 50 miles later I saw their Harleys parked in front of a pub in a small town that only had a pub in it. Go figure...that's Canadians for you - Ehhyyy...Finally, I reached Parker and the only visible landmark was the Arizona Railroad Yard. So I decided to stop there and take a couple of pictures before sundown.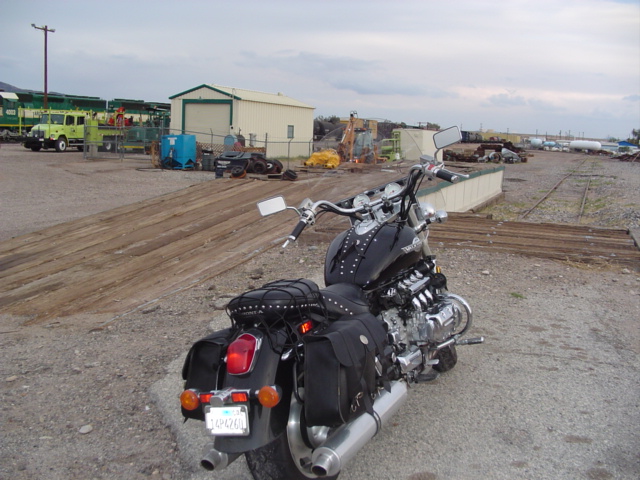 Parker Arizona Sunset!
The town of Parker was very uneventful. All the food places looked kind of unappealing to me. The Dairy Queen was closed, but there were a ton of pizza places around, so I decided to stop at one. It seems the whole town was there parked in front of the pizza place. I walked inside and the folks there immediately started to stare at me really weird. I wonder if they suspected another convict escaped from Blythe and hitchhiked his way into Parker. I walked all the way to the back of the dinning room where they sit all the weird people who do not deserve human interaction. Fifteen minutes later, a busty waitress walks up to me with a giggly kind of tone and takes my order. She kept flirting with me; touching my shoulder often as she spoke...I was wondering what I should give her in tips at that moment...would it match her expectations? Anyway, moments later, the weird guy sitting next to me started mumbling to his American Indian girlfriend how he hates the "fake Barbie doll" waitress who speaks in that "annoying tone of voice" how much it irritated him and that he wanted to kill her! Great, now I'm starting to think that maybe this guy escaped from the prison in Blythe and I was sitting next to him...what were the odds of that? As I was crunching down numbers in my head calculating predictability ratios, he starts to mumble to this girl "You know this guy sitting next to us, he's cool people...I really like him!" Great, now the psycho wants to be my friend! I started to tense up! The waitress came back with my food and he got up to go outside - to take his meds perhaps? Hmm...more brushing of the shoulder, more questions from the waitress about where I was headed, etc. I was starting to wonder if there was more than waitressing behind the scenes. She could have made it in the entertainment industry if she so desired. She had a great personality and seemed to charm almost every guy and gal in the room...I finished my food and the guy who sat back down next to me, asked me where I was headed and where I was from. He also mentioned that he hates phony people (like the Barbie doll waitress which he wanted eternally silent...) I told him that we had at least one thing in common, we both hated phony people! He left...a little edgy, probably lived with his momma...oh well...Isn't bike riding adventuring fun? I rode back to Vidal Junction via the 62 and took the 95 south back to Blythe for a ride in complete darkness. I arrived back to the Dennis and Tammy residence and hang out with Ed and Oz talking about the club and other things till it started pouring down rain. We all rode up to the hotel and hang out till 2:00 AM talking and drinking beers. Isn't bike adventuring fun?

The ride back to San Diego...
The ride back towards San Diego was a long and wet one! Even with all the rain, the ride through the traffic went smoothly. We rode a steady 80 - 85 miles an hour from Blythe all the way to Indio. From Indio, Big Lou, Ed and myself took the 79 towards Temecula. Boy did it rain hard on the way there. At some point in time we couldn't even see the road in front of our eyes. I opened up my visor and even though rain would get into my eyes, I would squint and deal with it, so that I could keep my eyes on the road. I found that lowering my visor definitely helped as long as I don't close it all the way to keep it from fogging.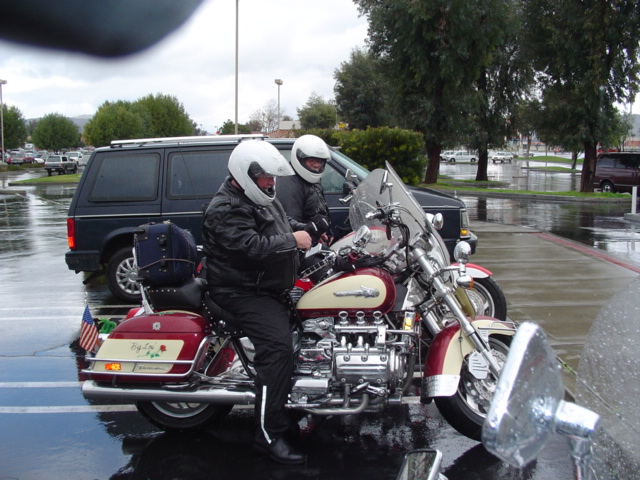 Big Lou and Ed shaking off the rain gear!
At some point we decided we had enough of rain, so I requested that we stop for a bite to eat. We ended up going to the Carls Junior for some more story telling and some burgers. After the fast food stop, we split up with Ed and headed off towards Temecula. I left Lou somewhere in traffic close to the freeway, after he motioned me to carry on towards the 15 south. I got on the 15 and started riding through the killer heavy rain all the way home. At some point in time I couldn't even see the cars from all the mist. The Valkyrie handled unexpectedly well...you can imagine that I was tense and somewhat worried about skidding through some water puddle, but this bike was made for all weather ridding as long as you are careful and don't push it's limits! I made it home unscathed and happy that I just finished my trip to Blythe successfully!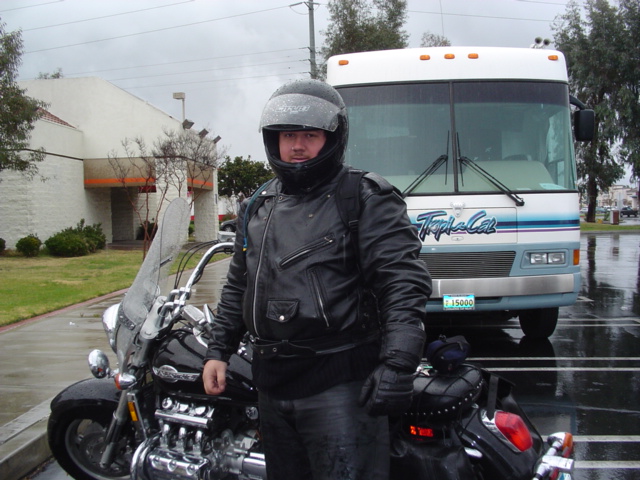 Damnatu - Taking a break from the hard rain!
For all of the readers out there who decided not to brave the rain and join us in Blythe, you probably made the right choice! Riding in the rain is not all that fun, but definitely rings out in the mind as adventure if you survive it unscathed! Hope to see you next time on our future VRCC rides!