March 5, 2005
4th Annual
<![if !vml]><![endif]>
<![if !vml]><![endif]>

<![if !vml]><![endif]>
Cancelled because of rain
By way of
The London Bridge
in Lake Havasu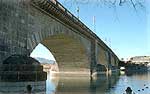 Tammy, Dennis & the kids
have pulled out all the stops.
Dennis is going to give us a personal tour
of how he brought the London Bridge to
Lake Havasu, on his Valkyrie,
stone by stone!
Thank God for Valkyrie Interstates and all
that extra baggage!
Next is StoneHenge in Blythe!
(Dennis is looking for properly rated bungee cords)
Sign Me Up!
Haven't been on a group ride in awhile (or before), then check this out and become more
comfortable riding with your Bros. Been doin this for years and think you have it down
pat, then check this out to make sure we got it right....

We depend on You!

Riding in a Group
Southern California Event Calendar