VRCC National Valkyrie Ride-In to Benefit the



Make-A-Wish Foundation®
of South San Joaquin Valley
all proceeds above costs to benefit the above Foundation
NEWS
Bakersfield is up and running. People arriving early to check things out. Justin running around like a chicken with his head cut-off trying to make it all happen. Thanks Crusader!
10/26/01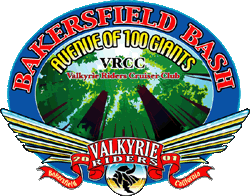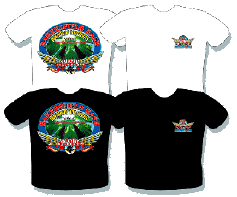 Bakersfield Bash Shirts now available
Find what your looking for fast w/ the SITE MAP DROP DOWN LIST
Just Select where you want to go from the Drop Down List below
October 26 - 27 - 28
NATIONAL VRCC
BAKERSFIELD BASH!!
10/26 - 10/27 - 10/28
Pics - Pics & More Pics
& Words From Crash
Sponsored by



the Valkyrie Riders Cruiser Club
Click here to see our Esteemed Master of Ceremonies
Tell Us You're Coming So We Will Be Able to Make This The BEST RIDE Ever!
Click Here to Let Us Know Your Intentions
WANNA Know How We Think This Ought To Work?
Go to the Rally Info page
REGISTER NOW!
REGISTER HERE!
All Rides Start in the Parking Lot of Inns of America
Panama Lane Exit - Hwy 99
6501 Colony St

GOTTA See Who Is Going?
Go Here
CURIOUS About The Schedule of Events?
Go Here
Of Course We're Gonna Have Vendors!
And If That's Not Enough -
HONDA's 2002 Valkyrie....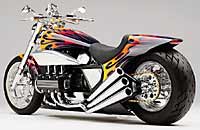 (Click on the Pic for Details)
This is going to be a big ride, so consider the following a MUST READ.
Haven't been on a group ride in awhile (or before), then check this out and become more
comfortable riding with your Bros. Been doin this for years and think you have it down
pat, then check this out to make sure we got it right....

We depend on You!

Riding in a Group
Plan on the first Sierra Ride Group (there will be several groups heading out about 10 or so minutes apart) leavin promptly (and we mean PROMPTLY) at 0830 Saturday morning.
(So Be Gassed and Ready to Roll)
We're gonna need some riders with CBs to work with the Ride Leaders. If you can help out, send an email to Marty Rood.
Gettin Ready for the 210 mile - ALL DAY - Sierra Ride?
Marty & Dave Did a Great Job on the Ride & the Map!


(Click On The Map For more detail)
CLICK HERE FOR PRINTABLE FYLER
Loading film in the Camera for the Giant Sequoias?
(There May Be A FEE Required For Entrance Into the "National Monument" Area. If there is a FEE, it's included in the
Registration Package. ATTENDEES (those not stayin for the Parking Lot BBQ) will need to reimburse the VRCC for the Entrance FEE.)

We'll have a stop where a side trail will take you to an unusual situation where a 300 year old Blue Spruce has merged with a 300 year old Giant Sequoia to the degree that one is now dependent upon the other. This is unique in that there are no other examples of two completely different species of trees having merged like this.



(They Grow Em Big Up Here Click on Photo to see larger picture)



(We Won't See This One-
But it Gives You Some Idea)
Starvin Yourself for the Parking Lot BBQ?
Register Here So We'll Know How Big That Pot of Beans Should Be!




We're Expecting a Big Crowd, So Hit the Chow Line Early! Click on Photo for larger version.
Shining Up Your Bike for the Koncourse De' Elegance?
Our Judges Are Recognized Experts In Their Fields!
Be Prepared for a GREAT RIDE!
Get there early on Friday Evening for the Traditional Dinner Ride (10/26).
(The Dinner Ride Leaves at 4:30 pm. Be sure to Sign Up if you're goin on this one-space is limited. We Pick
The Place-You Pay For Your Dinner.)
Hang in There Sunday Morning for the Daylight Savings, Changing Time, Ride
(25 hour day - 10/28)
(We'll use any excuse to Ride! - Sign Up - We Found A Great Place,
But You Have to Buy Your Own Pancakes. We leave at 0800.)
Need a Hotel Room?
Want to Stay at
Ground Zero
(Click On The Link Above)
Remember These Bikes?



Haven't Forgotten The Great Ride, Have You?

And If That's Not Enough - The Return of
Chicks In Chaps!


(Yikes!)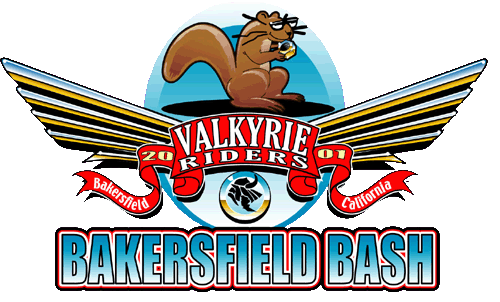 Valky the Bikin' Squirrel